Articles in the Spotlight
by André H. Roosma
At the Cross, Jesus carried the penalty of all our rebellion against God, all iniquity, etc. As such, it is the basis for God to do justice and yet be grace-full to us.
This essay explores what that means for people who have suffered severe abuse and for the counseling practice; . . .
---
on the way out from the valley of pain and depression
by André H. Roosma
In pastoral care I often encounter people who have become aware of some kind of trauma or trouble they experienced in their life. In many cases, this trouble started early and took away a lot of joy and energy from their lives – and often it still continues to steal their joy and energy. I know this also from my own first-hand experience. Trauma and all sorts of trouble - or re-emerging memories about it - can easily rob us of our enthousiasm and energy. As pastoral workers we easily fall into the trap of focussing all attention on . . .
---
– are emotions only nasty side-effects of our humanity or can they be nourished and renewed as well ?
(
2015-08-25)
by André H. Roosma
"Don't be so emotional! It only creates trouble!"
"Strong emotions - such as anger, depression or fear - often get people into trouble." Because of this idea, many churches and ministries here in the West teach it: emotions are not to be trusted. In Mental Health care, people are . . .
---
– from performance-based to healthy relating and life-giving communities –
(
2015-07-22)
by André H. Roosma
"Men don't protect you anymore"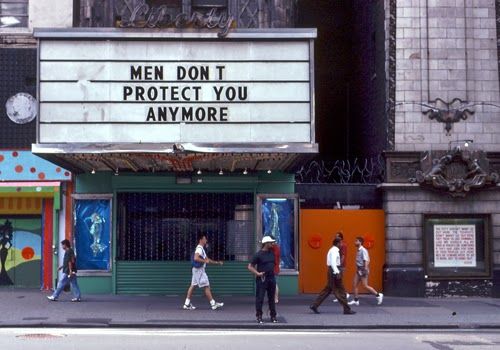 Somewhere on the Internet, I came across the above picture. It shows a headline at a New York City cinema, early in the '90-ies. It's a tragic headline, I'd say. An important question is: Is it true? Do we, men, no longer provide protection anymore?
To protect – women, children, the vulnerable in general . . .
---
– on modernism, postmodernism and the illusion of total human power –
(
2015-08-17)
by André H. Roosma
An English translation of an article that I wrote already a while ago in Dutch . . .
---
righteousness, peace and joy: keys to pastoral care and healthy living
by André H. Roosma
Living in the Kingdom of God, as His beloved children – what a mighty privilege, and what a great mandate! Such a great thing requires that we explore the Bible to see what God has in view when He speaks of this. I did such a survey and one theme, actually one verse, spoke to me in particular . . .
---
(
2015-02-21)

by André H. Roosma

Many times I have seen that scientists discover something, and then one recognizes that God has given us a similar advice in the Bible, thousands of years ago. This too, is the case with the deep meaning of a joyful, affirming and proud face of . . .
---
by André H. Roosma
When negative experiences have left their traces in our lives, or when we see how much better God has designed life to be, we can feel an intense longing for renewal in our life. I also think of how we can wrestle with specific sins, bad habits or addictions. Often I heard people sigh: "I whish I did that!" or: "I whish that I didn't do this anymore!" Maybe you recognize some of this.
Then, the important question must be asked: How does change in our life come about in . . .
---
A brief review of Transactional Analysis in a Biblical Pastoral context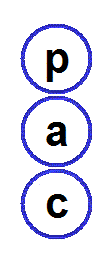 by André H. Roosma
As human beings we are influenced strongly in our speaking and acting by what we experienced in our first years of life. Many scientists have developed theories on the drives behind our actions. The Transactional Analysis by Eric Berne and others uses a metaphor of Inner Parent, Adult and Inner Child, as an instrument to gain more insight into these drives and to make conscious choices.
Below are some . . .
---
by André H. Roosma
Certain emotions can be difficult or even tough to experience. Powerlessness and fear, for example, are such feelings for most of us. We go to extremes not to feel these emotions. All kinds of addictions are used for example to numb the experience of these emotions. Especially if we have not been guided well as children in experiencing this kind of emotions, we may prefer to avoid them unconsciously.
The fact that many of us have learned early already to avoid their feelings – no longer feeling what they feel – may have painful . . .
---
by André H. Roosma
Part I
discusses the architecture of our brain and proposes a simplified model for our emotional and mental processing abilities. This model takes into account that those abilities have a layered structure and are heavily influenced by our connections with God and others, and the connections within ourselves.
In Part II
the model of Part I is applied to the processing of traumatic experiences and difficult emotions.
Part III
investigates attachment pain and the addictions and/or controlling that can result from trying to numb it.
Part IV
looks at our unconscious working models, schema's or life stories that guide our behaviour. Often these are highly affected by trauma experiences. Here too, as in the previous parts, the model of Part I helps to get key insights into the dynamics of human behavior as well as keys to recovery. In that recovery, the presence of Jesus can play a vital role.
These observations are of vital relevance for anyone involved in helping people process and/or cope with traumatic experiences, or find freedom from addictions - both the unaccepted and the socially accepted ones.